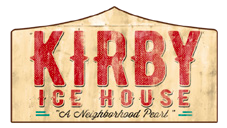 FAQs | Upper Kirby
Does Kirby Ice House offer private events or rooms?
+
No, all reservations are semi-private.
Can I rent the building for my event?
+
No, we do not rent the building but have plenty of space for everyone!
How much does it cost to make a reservation?
+
Zero! We offer complimentary semi-private reservations to parties of 25 guests or more.
What is the minimum spend requirement?
+
There is no minimum spend requirement for reservations.
What if I have fewer than 25 guests?
+
No problem, no reservation needed. Parties of fewer than 25 do not need reservations. Tables are on a first come, first served basis.
No, we do not have a kitchen but do allow outside food to be brought in, catered, or delivered. No outside beverages are allowed. No on-site cooking is permitted.
Do we offer discounts to large parties?
+
Discounts are not available, but you will be able to take advantage of any daily specials we have running the day of. We also do not return a portion of proceeds.
Leave the kiddos at home. We are strictly 21+ at all times.
Can I bring a DJ, Band or give a speech?
+
Simply put, no. We control the ambience closely. No bands, DJ, microphones, amplifiers or speeches are allowed.
Can I set up a slideshow on a TV?
+
This may be approved on a case by case basis. We offer limited TV utilization. Speak to a Kirby Event Coordinator directly for approval. (Visual only, no sound is permitted.)
While the building itself is powered, we do not provide outlets, cords or electricity.
Yes, simple decorations only. Extensive set-ups need approval. Signage must be self standing. Decorations may not be taped or adhered to our windows, walls or surfaces. We do not allow glitter, confetti or hay.
Can my guests order from the food truck?
+
Yes, set up a tab with the food truck directly.
What food truck will be on site?
+
Can I bring my own food truck?
+
No, Food Trucks meet strict permit requirements. No outside trucks are allowed.
What are drink tickets?
+
Drink tickets are used when paying for your guests but limiting quantities. For example, 2 drinks per person. Just let us know how many drinks you want to provide to each guest and we will take care of the rest.
Wristbands are used when providing unlimited quantities and signify a group is together on one bill.
Can I limit what my guests order on my bill?
+
Definitely! We can place restrictions to allow your guests to order only what you have pre-approved. For example, Beer and Wine only.
Yes, no problem. Set your budget in advance and we will accommodate.
Can I collect funds during my fundraiser?
+
Fundraising is permitted but to your immediate guests only and our regular patrons may not be approached for donations. This policy is strictly enforced.
Can I reserve the cornhole boards?
+
Games are on a first come first serve basis and may not be reserved.
Seating will be provided for 70% of your estimated headcount.
Inside or Outside seating preference?
+
Seating preferences are not guaranteed but we will do our best to accommodate requests.
Do you ever cancel reservations?
+
We honor most reservations but in certain instances you may be subject to cancellation. For example, any reservation on an Astros Playoff or World Series Game Day may be subject to cancellation. Due to the popularity of our venue all seating will be on a first come first serve basis. We apologize in advance and will notify you ASAP to offer alternatives!
Have a question not listed?
+
Call or email us, we are happy to help!